Day 18 - Sydney and Wollongong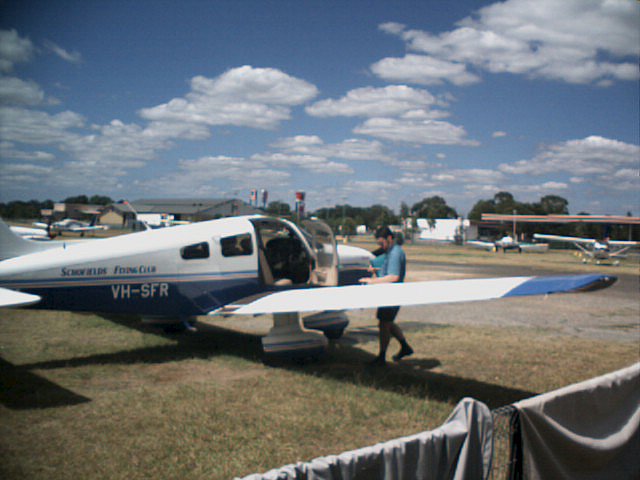 It would, perhaps, be unkind to note that Rupert's departure meant that the assembled SATWOTHers had now lost enough weight to make going up-diddly-up-up in a plane a realistic prospect. But that is the sad truth of the matter, and so the middle of the day was spent buzzing around Sydney and surrounds powered by a propellor. It was supposed to involve lunch in Wollongong, but a slight planning error (amazingly not our fault this time) meant there was only time for the plane and not the passengers to refuel.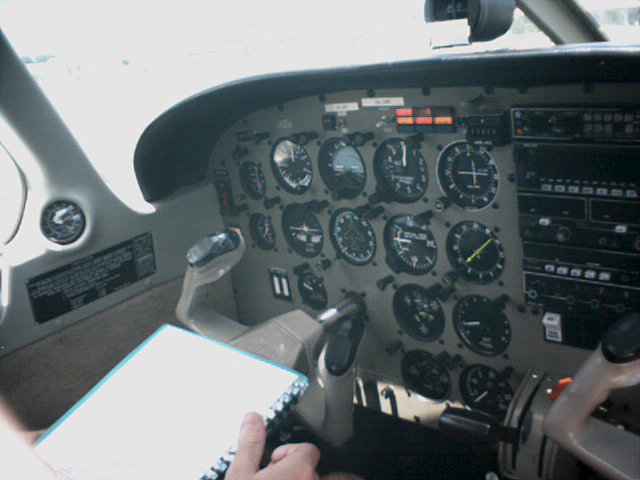 But the first comedy moment had come with the attempt to crowbar Mark's lanky frame into the craft available. There had been some consensus that Patrick should occupy the co-pilot's seat (since he had some clue about what the controls at the front actually meant and did), but after a period of grunting and swearing, attempts to get Mark to fit onto the back seat were abandoned. Even in the copilot's seat, he had to assume bizarre contortions from time to time in order to prevent his legs getting in the way of the various pedals, sticks, stems and other whatnots which assailed him from every angle. But we were in at last, we put our lives in David's hands, and up we went.

| | |
| --- | --- |
| | This is your pilot speaking. We will be cruising at an altitude of 2000 feet, give or take, and ... Mark, will you shift your bloody leg, please? |
| Bloody hell, we're up in the air.... | |
| | Hmm - it's quite a long way down, isn't it? |
| It's that bridge again. Shame you can't see it for the prop.... | |
| | Bondi from 500 feet up. Best place to enjoy it, frankly. |
| And down we go again. Just in time to miss lunch. | |
| | Fill her up, please, mate.... |
| 'I spy with my little eye something beginning with 'S'.' 'Sky?' 'Bollocks, your turn....' | |
| | And back home we come. The runway's the bit in the middle, isn't it? |
And so to a late lunch. And then into Sydney for a picnic in the Domain (the bit of the botanical gardens adjacent to Government House). Inexplicably, over 100,000 over people had also showed up, though on reflection this might have had something to do with the free concert given by the Sydney Symphony Orchestra. Anyway, four of these 100,000 or so were Dev, Sally, Andy and Steve...


| | |
| --- | --- |
| | Dev in characteristic pose. |
| Sally also in characteristic pose. | |
| | Andy and Steve look at two different things. |
| The concert begins with the National Anthem. Everyone stands up. Almost. | |
| | Three nuns, two of them blokes. You can tell we're in Sydney.... |
| Somewhere in the middle distance, the band strikes up. | |
| | Sally is enthralled. |
| 1812 Overture. Pyros at the ready.... | |
| | And more pyros. |
| Steve is so moved by it all that he does his famed Benito Mussolini impersonation. | |
---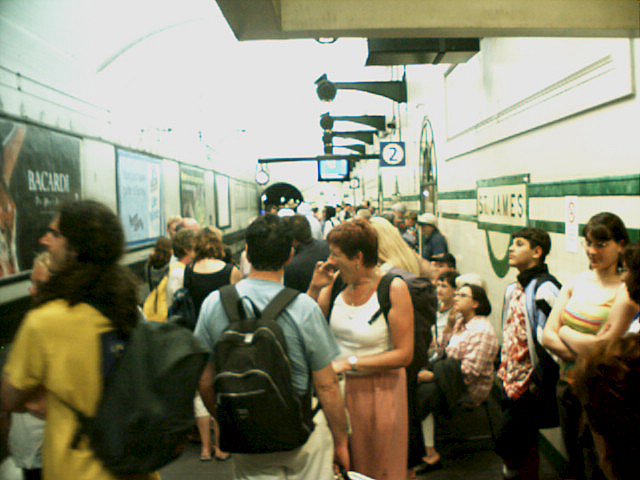 And so back home. With just a couple of other people on the train for company.